May 2019
| Sun | Mon | Tue | Wed | Thu | Fri | Sat |
| --- | --- | --- | --- | --- | --- | --- |
| | | | 1 | 2 | 3 | 4 |
| 5 | 6 | 7 | 8 | 9 | 10 | 11 |
| 12 | 13 | 14 | 15 | 16 | 17 | 18 |
| 19 | 20 | 21 | 22 | 23 | 24 | 25 |
| 26 | 27 | 28 | 29 | 30 | 31 | |
Calendar


For Sale: 92 coupe 347 project
Im tired of looking at this car and it's time to go.
car is currently in grey sealer(originaly calypso green) and needs to be painted. th motor and trans are in, brakes are on, and the interior is out, front sheetmetal is off the car. I was in the middle of a 4cyl to a v8 conversion and got tired of it.I do not have every parts for the car. It is smissing some small tings like a cluster, harmonic ballancer, hoses, etc. It's just time for this car to go and get something more practical for a dd. I have way more in this car then im asking. im just tired of looking at the thing. I have owned it a
engine:
Forged Probe 347
H-beam rods
Forged -20.1 cc blower pistons
new afr 185cc heads. 58cc chambers
ARP mains
ARP head studs
milodon 7qt oil pan (includes special pickup)
stud mount 1.6 svo rr(not installed)
ported and polished gt40 lower intake
Hogan sheetmetal upper
sheetmetal valve covers
accufab 70mm tb
new waterpump
new mac 1 5/8 long tube ceramic coated headers
mac h-pipe
maglaflow mufflers with flow tubes
billet msd dizzy
NOS gt40 big shot plate. brand new
trick flow stage 2 cam
new FRPP lifters
New FRPP adjustable bouble roller timing chain
will come with a set of v8 fuel lines
has 255lph in tank already
boo cool aluminum radiator that came with the car
energy suspension motor mounts.
trans:
case full c4
upgraded blue bands
shift kit
b&m shifter
aluminum driveshaft
2400 stall
suspension:
sn95 spindles
sn95 balljoints in stock a arms
03 cobra brakes front/rear
stock 4 cyl springs
95 cobra master cylinder
95 cobra brake booster
bear preportioning valve on passenger side firewall
stock preportioning valve removed.
sto
rear:
8.8
5 lug ranger axles
north racecar rear brackets
bear 13" rear brakes
NIB 3.73 gears (currently stock)
interior:
originaly was a black/grey interior but has been converted to all black with original parts.
original black dash
original black centerconsole
new headliner
new carpet
new sun visors
like new front seats
no back seat
black seatbelts(front only)
new heater core(still in box)
exterior:
95% body work done. does have a dent on the right side just behind the door and infront of the wheel well.
smoked tail lights and headlights.
comes with stock 01 gt wheels. 2 have tires, 2 don't
I'm sure there are other parts im missing and I will post them as I remember.
price is $4,500 obo. I have that much in the engine alone so pleaze don't low ball me. if someone will come get it this weekend, ill make them a better deal.
you can contact me at (405)924-0933. call or text.
here are a couple pics. ill take more pics this weekend.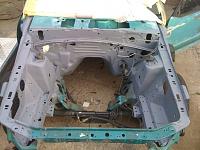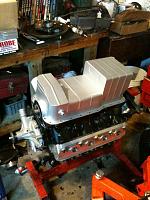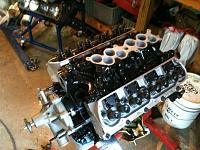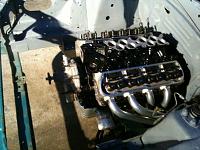 POSTED FOR 5.0man


Similar topics
---
Permissions in this forum:
You
cannot
reply to topics in this forum